June 9, 2014



To all the wonderful people who work in the service department at the Tustin Mazda location, along with Greg who has been my shuttle service many times, THANK YOU!!!!!! Almost five years ago, when my son turned 16, we decided to buy him a Mazda 3. We've never regretted that decision. We love that car, along with the wonderful features that were included in the purchase price. Buying the car and dealing with everyone along the way, was an extremely pleasant experience. When it was time for me to buy a new car, I knew that I wanted to get another Mazda, so now I am the proud owner of a CX9. As much as I love both of the cars, the people who work at the Tustin Mazda service dept are really impressive and deserve a lot of recognition for their continual great service and ease every time I drop off either of my cars. They all continually go above and beyond anything I have ever experienced at a car dealership. Mostly I deal directly with Sarah and I love her "can do attitude" and the smile on her face each time I come in. She is responsible, professional, HONEST, and someone I completely trust when I take either of my cars in for service or maintenance. This thank you note is long overdue and I hope that everyone who has been a part of this exceptional service sees this letter and knows that nothing is worse than having car trouble, especially if you know nothing about cars or how to fix them. I appreciate the knowledge and expertise of the Tustin Service Dept and appreciate all that they have done for me and my family over the years. I'm a very satisfied and happy customer-thanks for making it so easy to deal with the car issues I usually dread dealing with. See you soon--Gail T

March 15, 2014



Hi John, I want to start by saying it was a pleasure to meet you last week, it's not often I get to meet the man with his name on the building.   Having been a Mazda customer for our last two cars and buying them from your dealerships, there was no doubt that we would be making a stop at one of your Mazda dealerships to experience the CX-9.  

It seems that people only take the time call or write to management when something goes wrong or they aren't satisfied; we see that in our business as well.  Not this time!  I want to tell you what a great experience we had with Shawn Brown last week, at your Hyundai dealership.  I'm always evaluating the people that help me, and there was no one else I would've wanted to deal with than Shawn.  We made it clear from the beginning that we still had a couple of other cars (the CX-9) to see before making a final decision and he still went out of his way to answer all the questions we had.  He provided hands on demonstrations of some of the tech features and really went the extra mile on our first visit and test drive.

Once we made the final decision to buy, he was busy finalizing a deal but made sure we were comfortable while we waited and made sure my kids were comfortable as well.  When it came time to find us a Santa Fe, he was patient and understanding as we went through the color combinations my wife wanted.  As it turned out we ended up with a 2013 CPO Santa Fe, one that was in the color scheme we were looking for.  Shawn was awesome, he pitched the offer to us that Steve had given him and it was so non-pressure.  Again he took all the time we needed to answer questions we had about the car and the extent of the warranty.

Shawn did his job to the fullest and did it with integrity and professionalism.  I'm glad he was next in line when we arrived and we were able to close the deal with him.  I really respect everything he did that evening, from looking things up, explaining things to us to just making sure we were comfortable and taken care of.  From offering us water, making new coffee, and making a fresh batch of popcorn, Shawn did all the little things that make the biggest impact.  It really makes me feel good to know I can go shopping for a car and not dread the task.  You've done a great job with your dealerships and your staff - thanks for creating an environment where people care and respect the people that are coming in to buy a car.

 My wife is loving her Santa Fe and is now a huge fan - me, I knew it was a good thing as soon as I saw your name on the building.

 

I also want to thank you for the offer to extend employee plan pricing to us at Hyundai and any part or authorization you may have given in the price deal we were offered on the CPO - it was very nice of you.

 

Now I see where your staff and Shawn get their great service skills, it starts at that top.

Thanks again,

Mark & Kelly S.




Jan. 26, 2014...two videos on the same day!  Go Jimmy Feinstein, Internet Director at Tustin Mazda!

  

Jan. 7, 2014

Dear Mr. Patterson,

I wanted to express what a great car buying experience we had at your HB Mazda dealership this last weekend.  With Barry Raymond's help and knowledge, my daughter purchased a car that provided her with the drive she was looking for, with all the desired features, and most important, all at the right price.  Thanks to the entire team at your HB facility who helped us purchase the car.

Evan S.

Jan 1, 2014
Dear Mr. Patterson,

I am writing this email to express my gratitude for the exceptional customer service I received on Dec. 30 from the wonderful employees of Huntington Beach Mazda.

You can be sure that I will refer anyone to purchase a car from Huntington Beach Mazda.

Sincerely, Meghan S. Proud Mazda Owner

And from our video files...
  ...
October 2013
Hi Mr. Patterson,
I purchased a vehicle from Tustin Mazda about a month ago. Just wanted to write you and let you know the experience I had shopping with you guys was awesome. Rossi was my salesman and he was extremely helpful throughout the whole process. He made sure I got the car I wanted at a great price. I absolutely love my Mazda 3! You run a great dealership there with great people. I will definitely recommend you guys to all my friends.
Thanks!  Ariana V.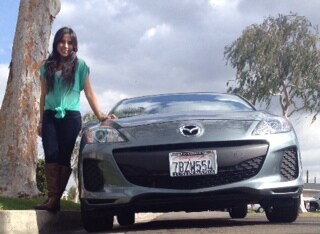 October 2013
Dear John,

Thank you for making our Mazda car buying experience enjoyable. Everyone, including Mike and Lori, was always courteous, helpful, and patient as we took our time to make a decision. These are our first Mazdas' and we wanted to be sure we were making the right decision. Ted was always there to help with the process and make things happen. He spent many hours making us feel comfortable with the cars. We finally opted for the 2014 Mazda 3 and are very happy with the decision. And as you know, we ended up buying two Mazda 3s from you, so we're now certainly part of the Tustin Mazda family.
We're conservative car buyers and have typically had Toyota and Nissan cars, and over the past few months we've also been looking at similar cars from Honda and Kia. We tend to keep our cars for a long time so reliability is a key factor in our car buying decision. After all the test drives we finally settled on the Mazda 3 because of its reliability, quality, AND 'fun driving experience'. The Mazda 'Zoom Zoom' mantra is clearly alive and kicking!
I am sure we will see you as we come in for our regular services.
Regards
Jayesh and Harsha K.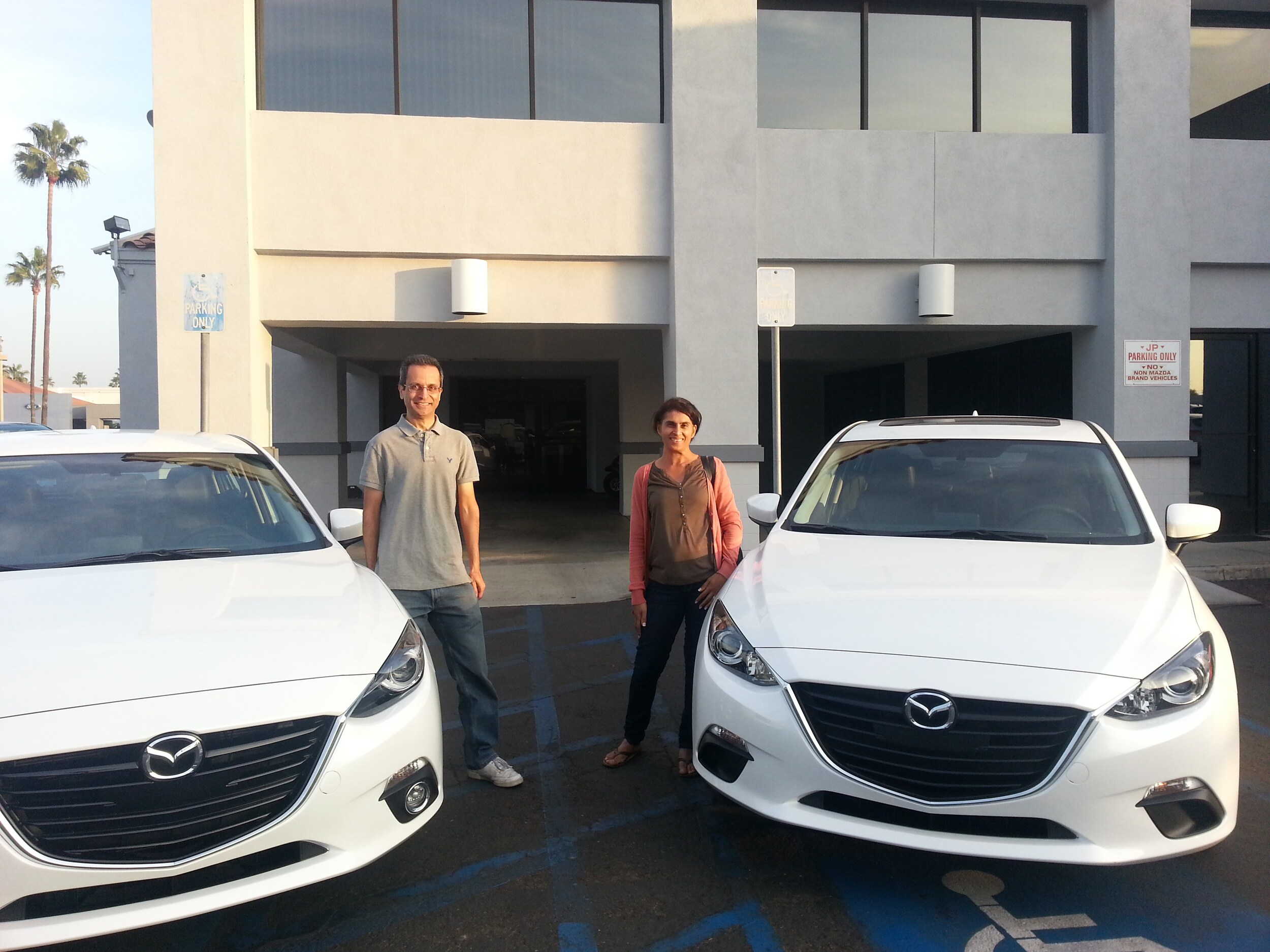 October, 2013
Hi John,

We had some service done today on our 2011 Mazda 3. Once again your staff goes beyond our expectations. a special thanks to Roger Abbott who we find to be one of the best service consultants ever. We bought our car from you several years ago and continually get outstanding service every time we walk through those doors. I noticed you are part of the Hyundai family as well. Good to know I have a 2006 Hyundai my sister just gave me so now I know where to go for trusted service. On a more important note, you are very fortunate to have a reputable service guy like Roger Abbott. He makes us feel very comfortable with our decisions. Thanks again to all of you. Best Regards, Tom and Joan C.
October 2013
Dear John,
Just a little Thank You for making our 2nd experience with HB Mazda great!
This time around another soon to be High School Graduate in need of a car. After calling the HB Mazda location and speaking with Dave Scott. I decided to except an invitation from Mr. Scott and come by. Not only did Dave show me vehicles in the price range I asked he was understanding to my needs and valued my time. Along with Manager Jerry and Jake in finance. I would highly recommend HB Mazda to my friends and family.
Thanks again from another satisfied customer! And especially to Dave Scott for making this transaction smooth and worry free.
MaryAnn V.
October 2013 
Dear Mr. Patterson,
I am a long-time Mazda owner and current customer. You may remember meeting me a few years ago when I purchased my last Mazda from your organization, after my previous Mazda, which had logged 372,521 Miles, was no longer repairable.
I have been very impressed with the overall quality of your dealership, and I've no doubt my next Mazda purchase will take place there as well.
One reason I have turned to Mazda for my last five vehicles is that they have always provided me with fun, reliable transportation, and I have always placed a premium on a solid dealership to back up my initial purchase with dependable, quality service.
Because I do keep and cherish my Mazdas for such long intervals, you can imagine that keeping them in proper running condition is of paramount importance to me. I'm always careful to follow all of Mazda's service recommendations, and because I put a lot of miles on my Mazdas, it means I'm a frequent visitor to your service facilities.
Your employees all show laudable concern for the customers, but I'd like to take this opportunity to single out one individual who has always made my regular visits to your service department a pleasure, rather than the dreaded chore automobile maintenance can all too frequently be.
My service representative, John Cemore, (HB Mazda) is to me, the face of your organization, and it's hard to imagine pulling up to the service drive without his warm, eager greeting and insightful assurances that any maintenance issue, no matter how large or small can be promptly diagnosed and professionally addressed.
Frequently, people needing service come in under a great deal of duress, and time and again I've witnessed John allay a customer's anxieties through his affable manner, thorough knowledge and patient, clear explanations of what a vehicle needs to get back on the road.
I must admit that I probably should have written much sooner on this, I've relied on John for years, but one does tend to take situations for granted that just work and continue to work. I drive     by at least two other Mazda dealerships on the way to your facility,  and frankly, the idea of taking my car to either of their service departments never crosses my mind; John's fine work is one of the reasons why.
Sincerely,
 Larry K.