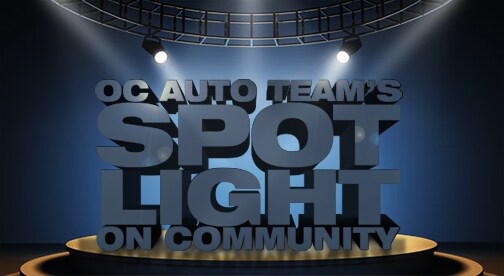 SEPT & OCTOBER 2018
WE STAND UP TO CANCER
·      OUR TEAM IS DOING A TWO MONTH FUNDRAISER BECAUSE:
o   OVER 1,500 PEOPLE IN THE UNITED STATES DIE OF CANCER EACH DAY, THAT'S OVER 600,000 PEOPLE EACH YEAR 
o   ONE OUT OF EVERY TWO MEN WILL BE DIAGNOSED WITH CANCER.
o   ONE OUT OF EVERY THREE WOMEN WILL BE DIAGNOSED WITH CANCER.
o   15,000 CHILDREN ARE DIAGNOSED WITH CANCER IN THE USA EACH YEAR.
·       WITH EVERY CAR PURCHASED, IN SEPTEMBER AND OCTOBER, EVERY PART ORDERED, OR EVERY SERVICE PERFORMED, AT OUR DEALERSHIPS, WE WILL DONATE A PORTION OF THESE TRANSACTIONS TO STAND UP TO CANCER!
August 2018
Our community spotlight is shinning on Children's Hospital of Orange County this month, as we participate in our 3rd annual
The OC Auto Team Heroes for CHOC will once again partner with our employees, family, neighbors and customers in the hopes that we can raise more than the $10,000.00 we raised last year!  We hope you might consider to join in, too.
Here's a peak at the fun we, and a few others, have had in the last two walks as we support the heartfelt efforts, care and dedication CHOC has shown for over 54 years to the children, their families, and to our community.