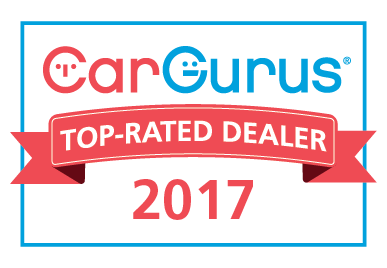 Tustin Mazda Receives CarGurus' "2017 Top Rated Dealer" Award
for Highest Shopper Ratings 
Tustin, CA, June 16, 2017 - CarGurus, a leading consumer automotive car shopping website, today announced it has named Tustin Mazda a "2017 CarGurus Top Rated Dealer." The annual CarGurus Top Rated Dealer awards are presented to a select group of car dealerships that have received the highest average ratings from shoppers who have submitted dealership reviews on the CarGurus platform. CarGurus uses shoppers' dealership ratings as well as comprehensive valuation analytics to help shoppers search their local marketplace and find great car deals from top-rated dealers.
"We are thrilled to recognize Tustin Mazda as a Top Rated Dealer," said Sam Zales, President of Dealer Operations. "Based on CarGurus' shoppers' ratings, it is clear that the team at Tustin Mazda is delivering a superior car shopping experience for their customers, and we applaud their high standards for excellence."
"Providing exceptional customer service is a priority for us, and we are proud to be recognized as a Top Rated Dealer," said John Patterson, President.
CarGurus invites shoppers to review and rate dealerships with whom they have interacted during their car shopping experience. Dealer ratings and reviews are visible to the public on the site, and they are also factored in the algorithm that CarGurus uses to rank search results for shoppers.  According to recent CarGurus poll, 78% of shoppers say they will not buy a car from a dealership without first seeking out reviews of that dealer from other shoppers.
About Tustin Mazda
Since 2004 John Patterson's Tustin Mazda has enjoyed the privilege of serving the Orange County Community.
 About CarGurus
Founded in 2006 by Langley Steinert, co-founder of TripAdvisor, CarGurus is a leading online automotive shopping destination focused on bringing transparency and efficiency to the car research and shopping experience. The site uses technology and market data analysis to help millions of automotive shoppers search for cars and quickly identify great deals from top-rated dealers in their local area. Today, the site serves more than 23 million unique monthly users and ranks #1 among car shopping websites in the U.S. by daily unique visitor traffic. CarGurus also has sites in the UK, Canada, and Germany.
# # #
~~~~~~~~~~~~~~~~~~~~~~~~~~~~~~~~~~~~~~~~~~~~~~~~~~~~~~~~~~~~~~~~~~~
February 2017
Mazda's Holiday Surprise to one our own...
Mazda Fanatic Gets First MX-5 Miata RF from Huntington Beach Mazda!
Dave Putter claims his 16th Mazda!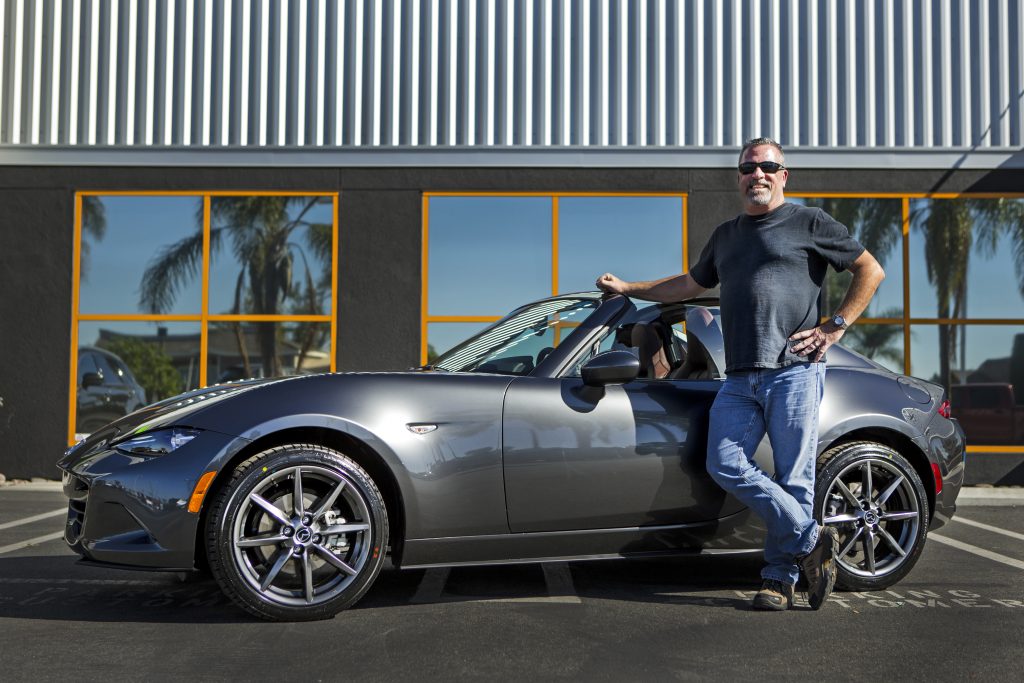 Read the full article here!
~~~~~~~~~~~~~~~~~~~~~~~~~~~~~~~~~~~~~~~~~~~
December 2016
Car And Driver reports the Mazda CX-9 is the Best Mid-Size SUV!
Salvation for suburbia...
"To everything there is a season. A time for roadsters, and a time for wagons. A time for joyrides, and a time for commutes. But if the time has come for a three-row family hauler, descend not into weeping and gnashing of teeth.
Yea, fathers and mothers, there is one among the throng that can save us from the drudgery of suburban life. And we shall know it by the name
 Mazda CX-9."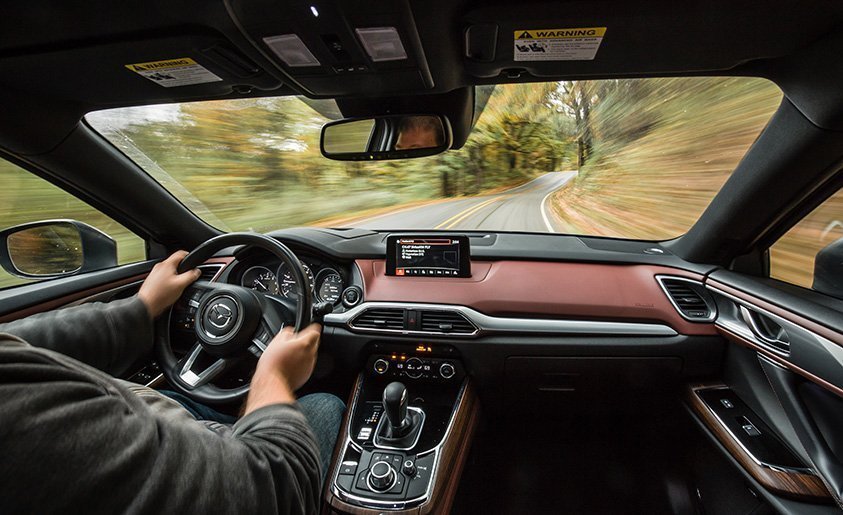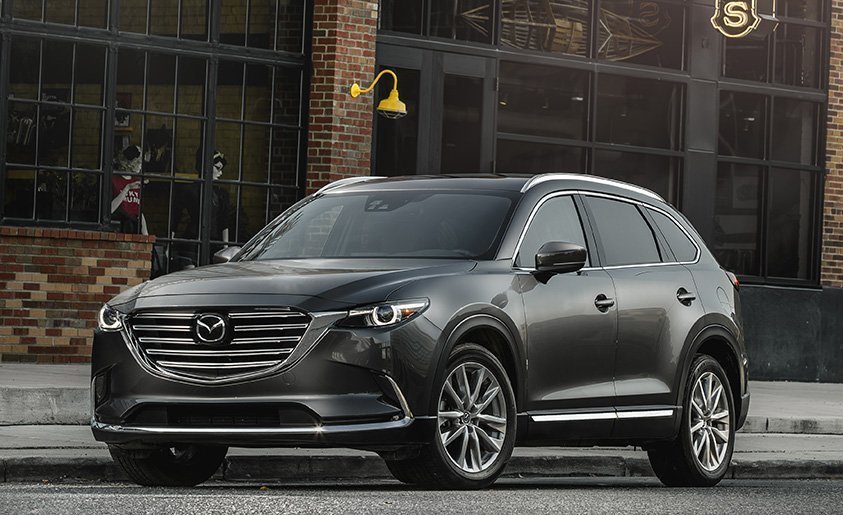 ~~~~~~~~~~~~~~~~~~~~~~~~~~~~~
November 18, 2016
The 2016 LA Auto Show proved to be a pretty great show for one of our Huntington Beach Mazda customers!  It was announced that Dave Putter was the lucky recipient of the very first 2017 Mazda MX-5 RF Launch Edition!  Dave was invited by Mazda to sign up to purchase one of only 1,000 of these gorgeous fastbacks.  Little did he know the president of Mazda would be ceremoniously handing him the keys to the very first one produced!  The day after the big announcement, Dave met with John Patterson for the actual keys to his actual MX-5 RF Launch Edition, in which he actually drove off in it!  The other 999 editions will be released in March.  Dave has been a Mazda enthusiast for years and an always much-welcomed guest at Huntington Beach Mazda! Congratulations Dave!  It couldn't have happened to a more deserving Mazda fan!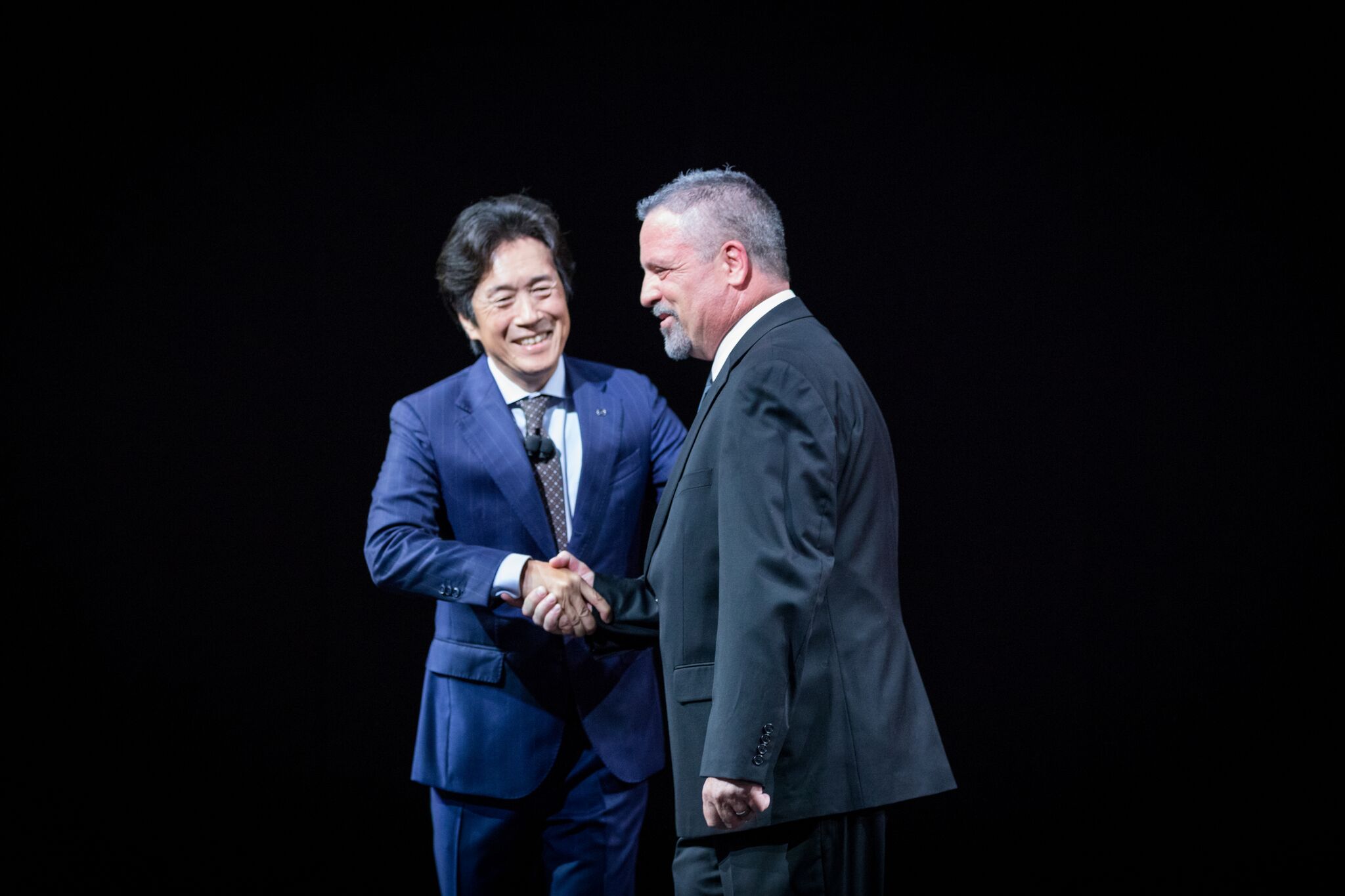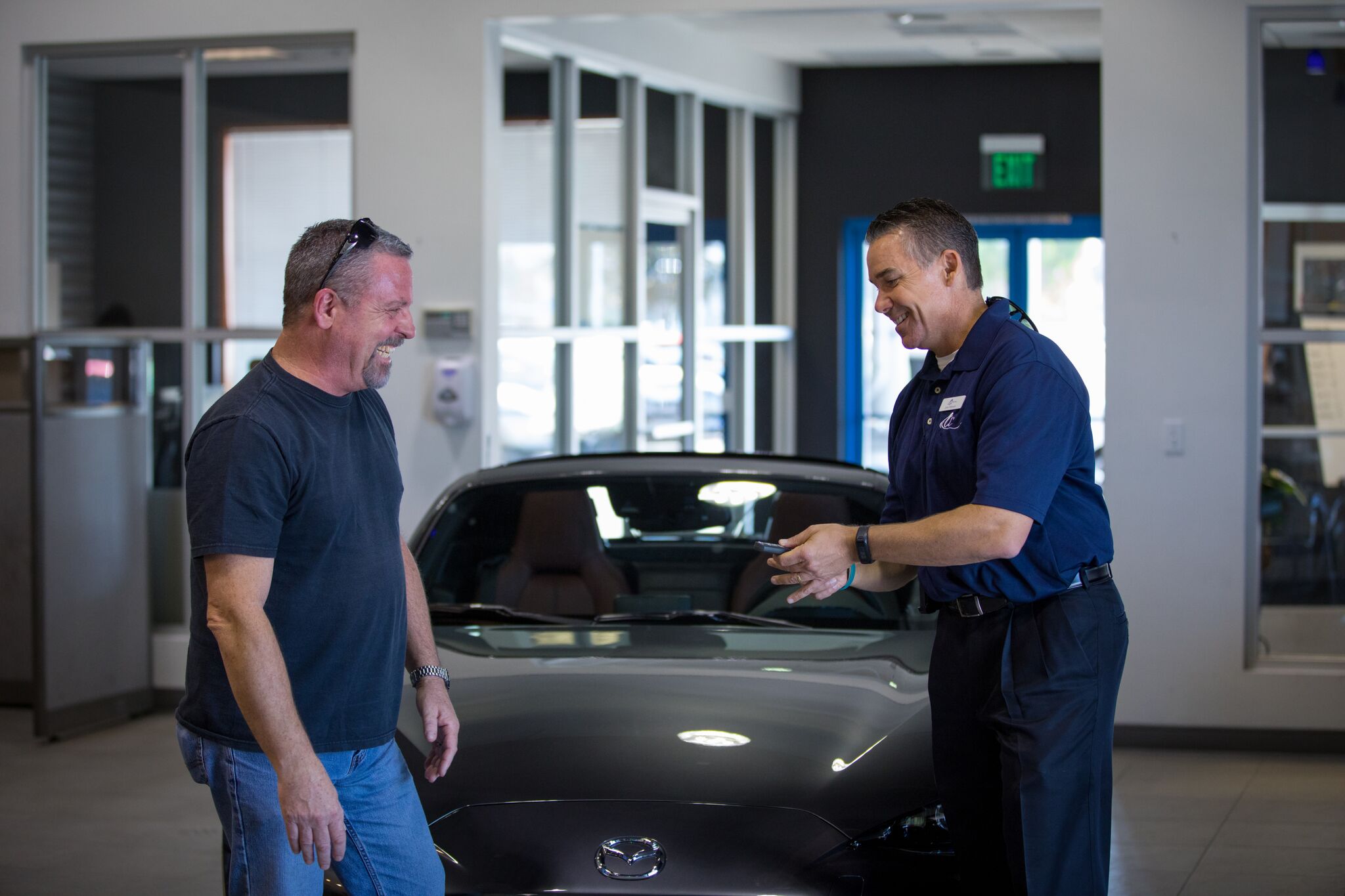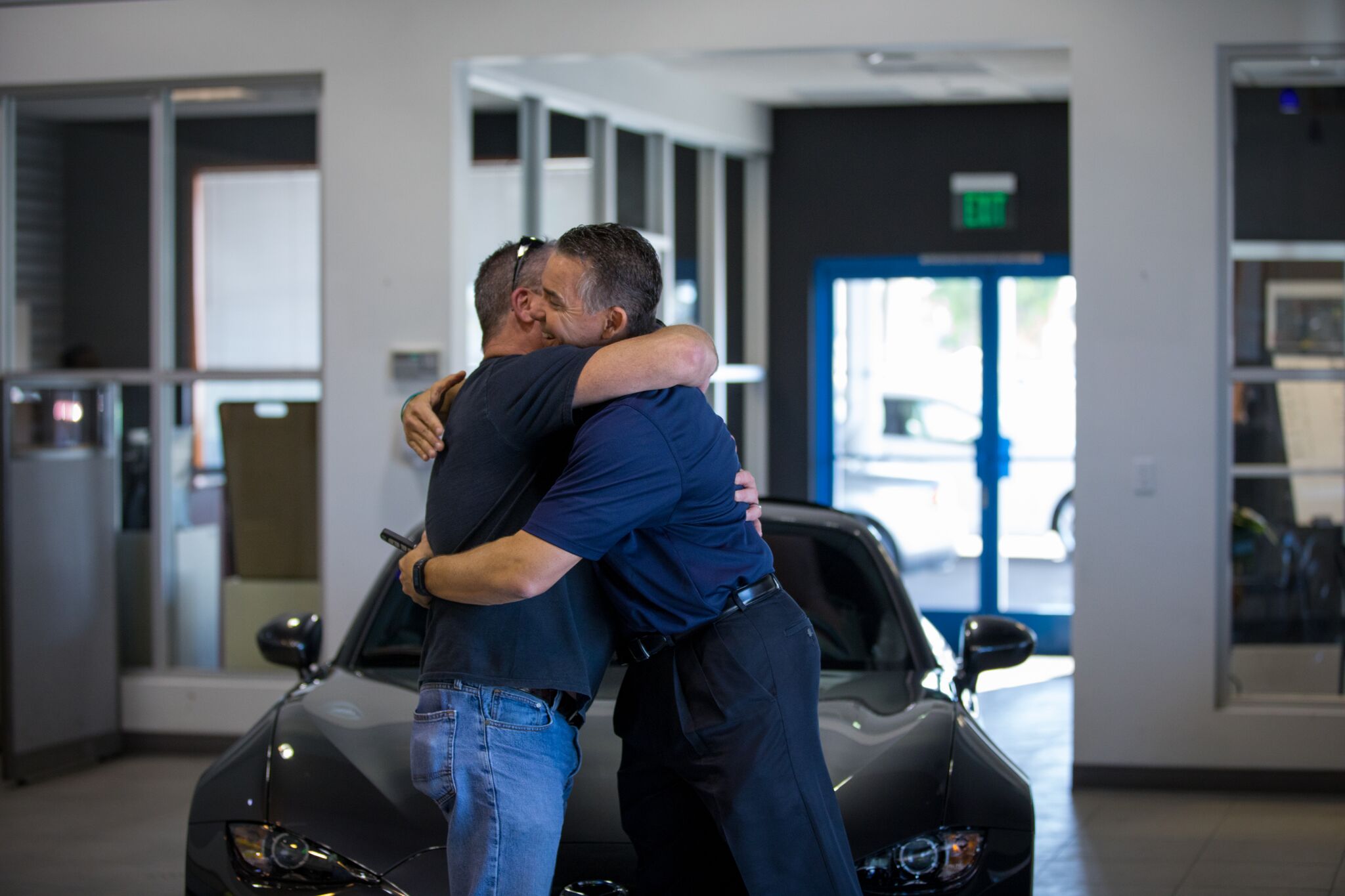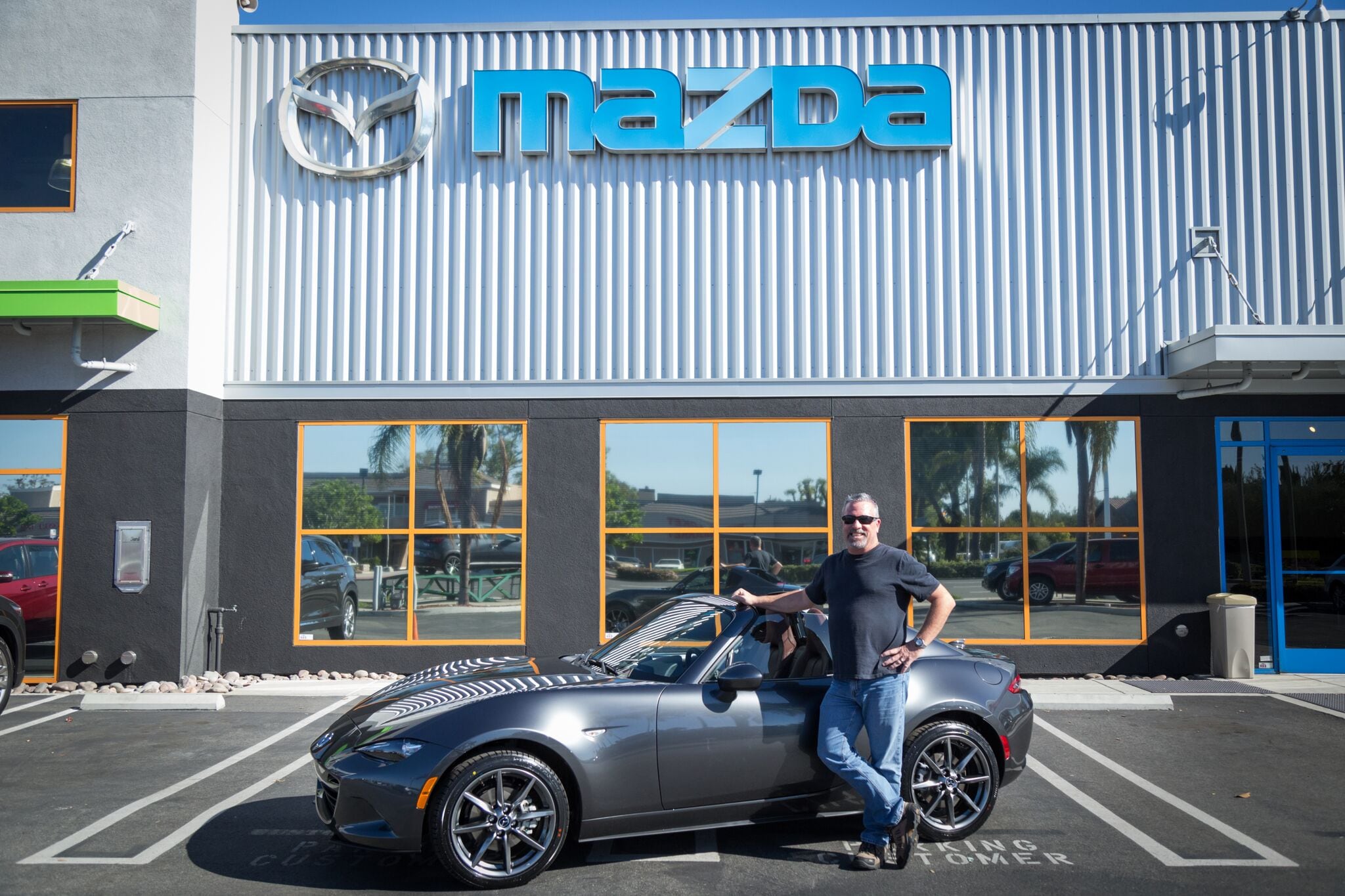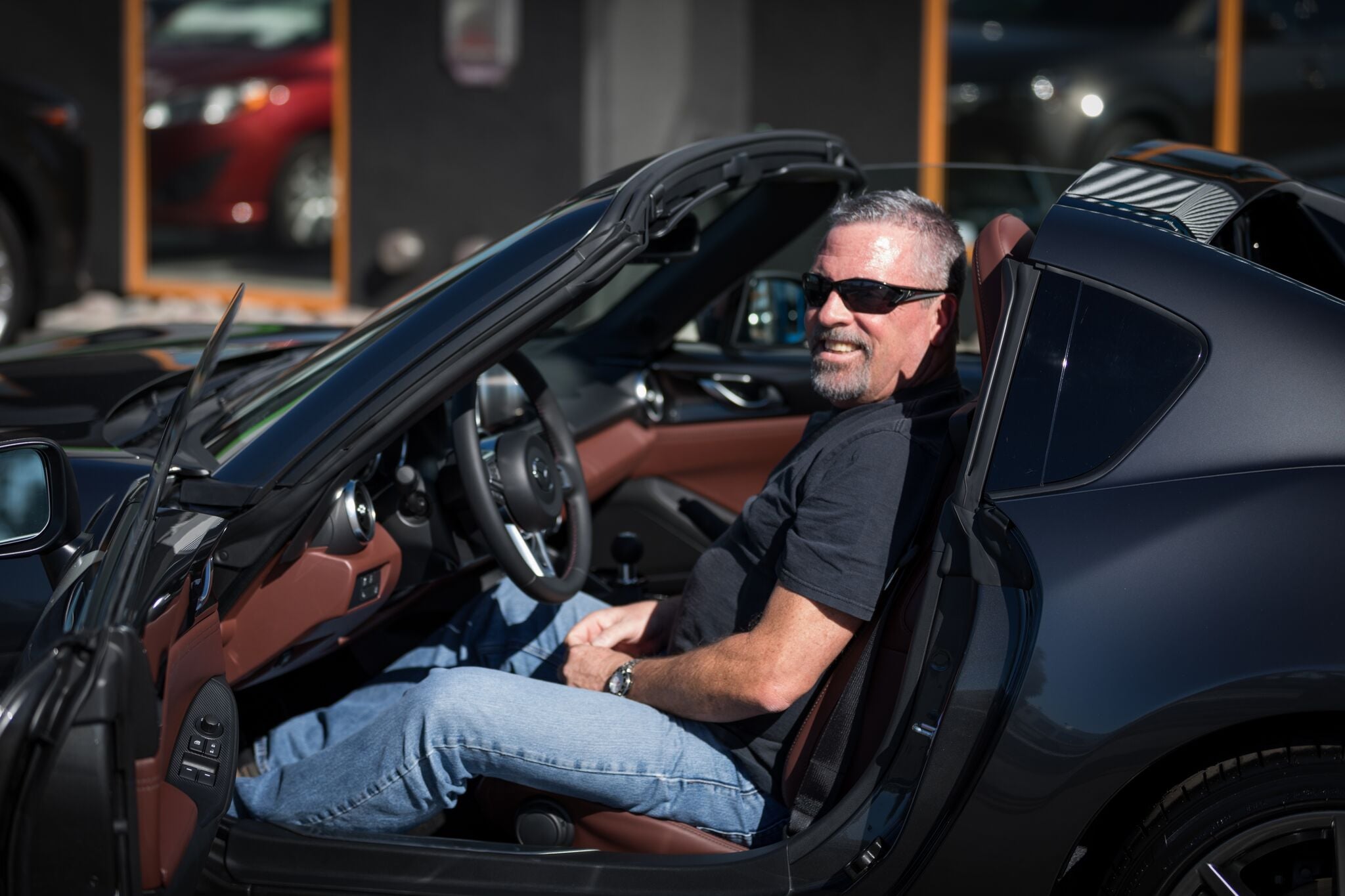 ~~~~~~~~~~~~~~~~~~~~~~~~~~
September 2, 2016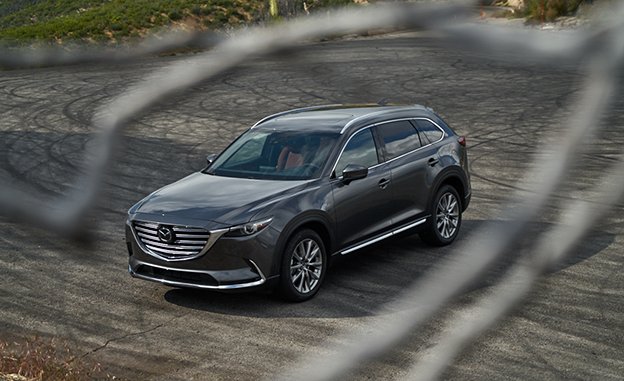 ~~~~~~~~~~~~~~~~~~~~~~~~~~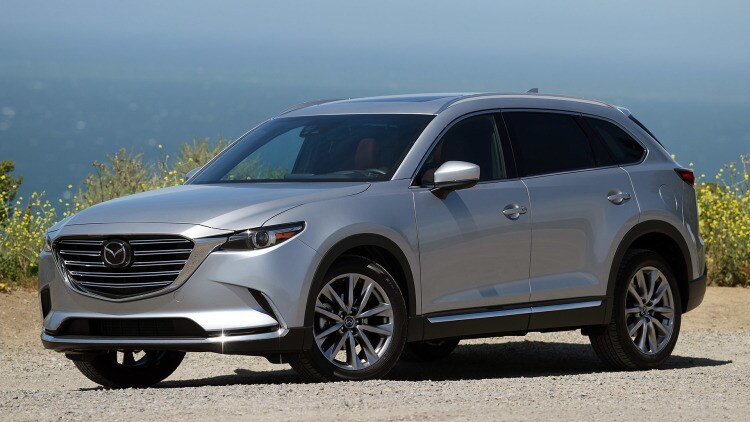 Mazda, Hyundai bright spots amid weak U.S. sales
~~~~~~~~~
May 15, 2016
 John Patterson gets a surprise call from Angel's Radio regarding the arrival of the 2016 Mazda CX-9!
~~~~~~~~~~~
March 24, 2016
2016 Mazda MX-5 Named World Car of the Year AND World Design of the Year!

From Autoblog: "Kicking off Day Two of the New York Auto Show, the World Car of the Year awards are finally being handed out. The overall winner is, as God himself intended, the Mazda MX-5 Miata. It beat the Audi A-4 and the Mercedes Benz GLC-Class."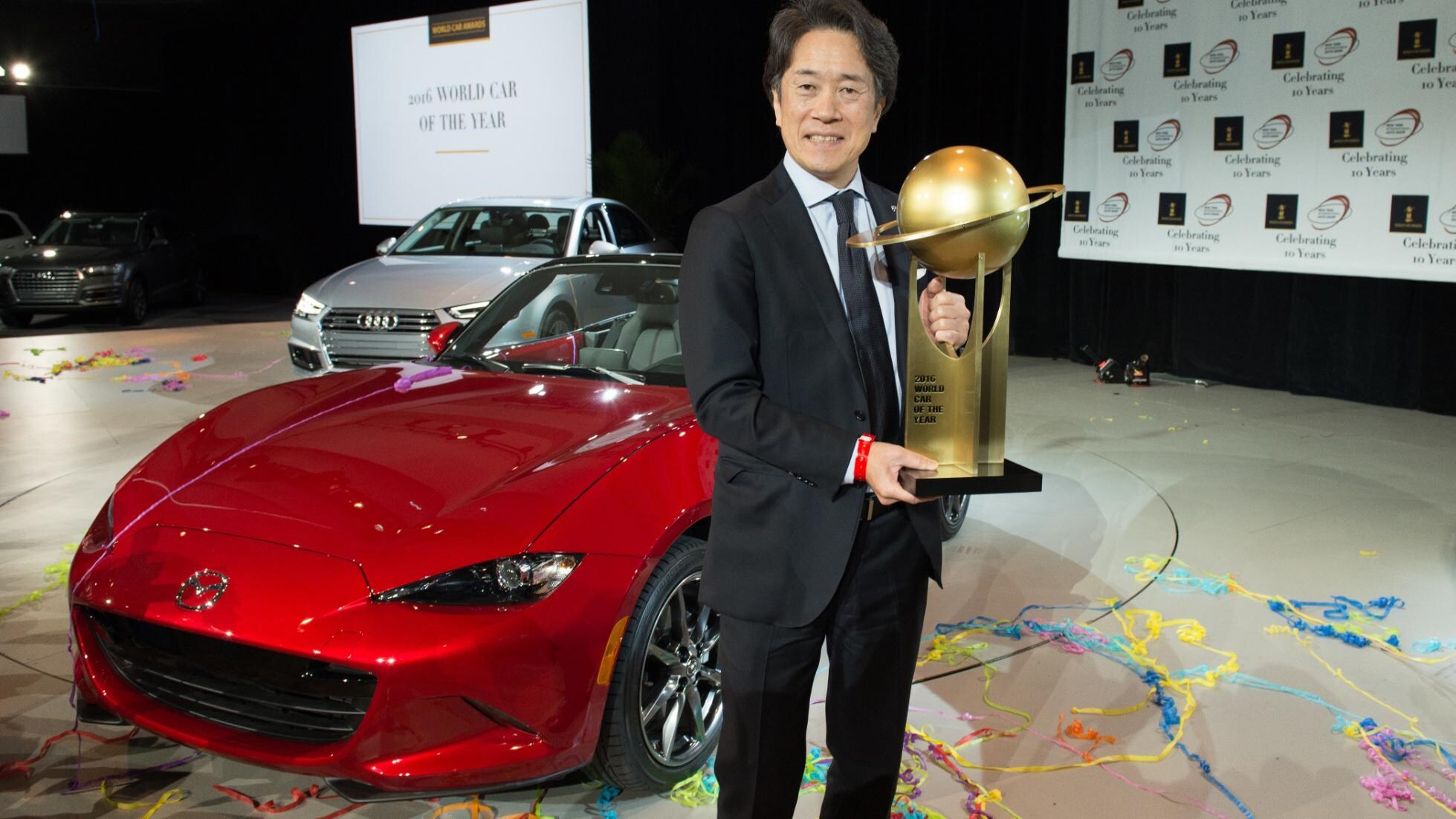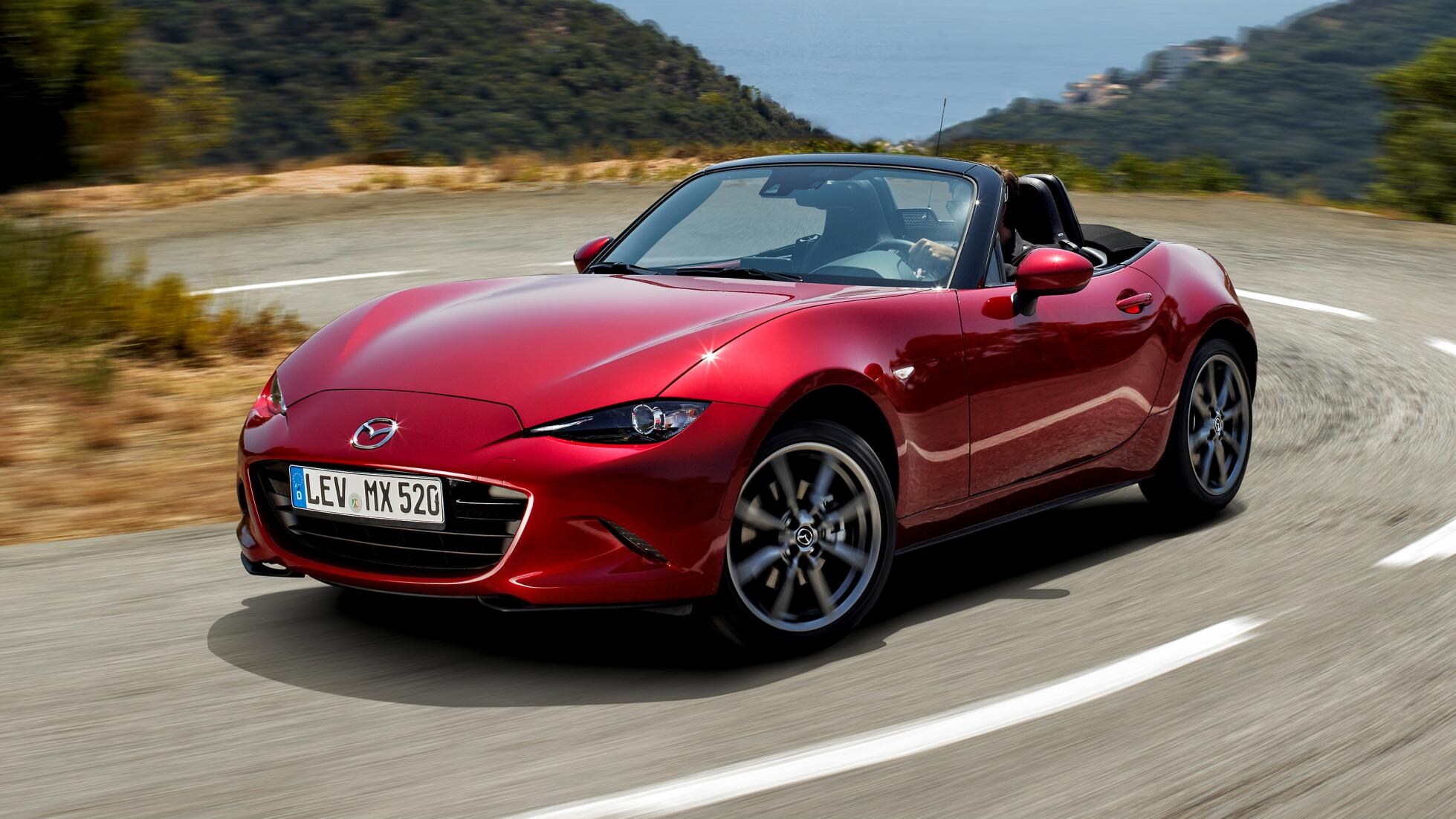 ~~~~~~~~
Irvine, March 2016
Mazda Dominates the First Annual New York Daily News Auto Awards
Mazda North American Operations (MNAO) today announced that five of its vehicles received top honors in the New York Daily News Auto Awards, winning more awards than any other car manufacturer for 2016. Award-winning vehicles were selected by a panel of nine distinguished automotive journalists that were given a single over-arching directive: "Within each category, rank the vehicle in the order that you would recommend them to your family, members, friends and co-workers."
According to New York Daily News Autos, the awarded vehicles are "the best cars, SUVS, trucks and vans you can buy today."
Award winning Mazda vehicles include:
~~~~~~~~~
Irvine, March 2016
2016 Mazda MX-5 Miata-An ALL STAR!
IRVINE, Calif. (March 22, 2016) - The 2016 Mazda MX-5 Miata has been named a 2016 AUTOMOBILE All-Star, one of seven all-new vehicles selected to the publication's annual list of the best vehicles on the road today.
To determine its All-Star winners, the judges at AUTOMOBILE evaluated the MX-5 and 24 other contenders at Spring Mountain Motorsports Ranch in Pahrump, Nevada, as well as on road loops around the facility. After the winners were chosen by a staff vote, the MX-5 accompanied the rest of the group through Death Valley and on to California's eastern Sierra Nevada mountain range, a drive that further showcased the lightweight roadster's unrivaled open-top experience.
AUTOMOBILE editors couldn't get enough of the 2016 MX-5's fun-to-drive personality from behind the wheel. The supple, yet properly sorted suspension provided judges with a smooth ride throughout testing, with an impressed eyebrow raise at how the MX-5 Club edition conquered broken pavement on the open-road portion of the testing.
"There's a reason the Mazda MX-5 Miata has been named an AUTOMOBILE All-Star an unprecedented 11 times," said Mike Floyd, editor-in-chief of AUTOMOBILE. "It's arguably the best bang-for-the-buck sports car of all time. An unrivaled open-top roadster that embodies our brand's No Boring Cars mantra. A car that inspired generations of motorsports aficionados to hit the track. The 2016 MX-5 unquestionably carries on that tradition."
~~~~~~~~~
Irvine, February 2016
2016 Mazda CX-9 Wins Luxury Vehicle Award from EBONY Magazine.  Mazda's New Three-Row, Midsize Crossover Named "Pretty Boy" in EBONY's Annual New Vehicle Awards Issue
All-new for 2016, CX-9 moves upmarket with its new Signature trim level, including Nappa leather, rosewood sourced from Japanese guitar-maker Fujigen and real aluminum trim throughout its spacious interior. Its exterior adopts Mazda's dynamic KODO-Soul of Motion design theme, heightened by the first application of Machine Gray, a color complementing CX-9's curvaceous body with a liquid metal-like quality. Further heightening its appearance are standard LED headlights and tail lights and optionally available 20-inch wheels and signature grille lighting.
"From its proud grille to its dual exhaust, and everything in between, we've designed a vehicle that paints the direction for where we want the Mazda brand to go, now and in the future," said Julien Montousse, director of design, Mazda North American Operations. "We're honored to be recognized by EBONY, as we believe CX-9 is a bold crossover that makes a statement in its segment."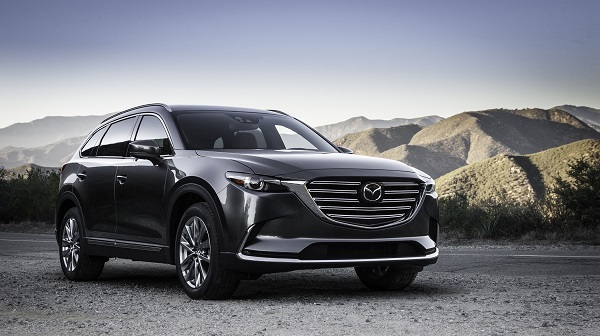 ~~~~~~~~~
Irvine January, 2016
Good Housekeeping loves the Mazda3!
Good Housekeeping Names Mazda3 'Best Compact' Car for 2016
Mazda3 wins for performance, style and family friendliness
IRVINE, Calif. (January 12, 2016) - Adding to its long list of accolades, the 2016 Mazda3 Grand Touring has been selected as the 'Best Compact' vehicle for Good Housekeeping/Car and Driver's inaugural '2016 Best New Car Awards.'
Good Housekeeping worked with Car and Driver, the leading authority on all things automotive, to screen a preliminary list of the top 160 vehicles down to 41 across four categories: Compact, Sedan, Eco and Crossover. Then, the engineers from the Good Housekeeping Institute logged 2,000+ miles on real roads, assessing everything from performance, safety features, and family friendliness, to price, infotainment systems, usability, storage and intuitive design. Mazda3 remains popular for its stylish design and sophisticated Mazda ConnectTM system that set it apart from the competition.
"The sleek KODO design and Mazda's SKYACTIV Technologies are what differentiates Mazda from other automakers," said Robert Davis, Senior VP of U.S. Operations, Mazda North American Operations (MNAO). "We are proud that Good Housekeeping and Car and Driver have recognized Mazda3's quality and value by naming it the Best Compact Car for 2016."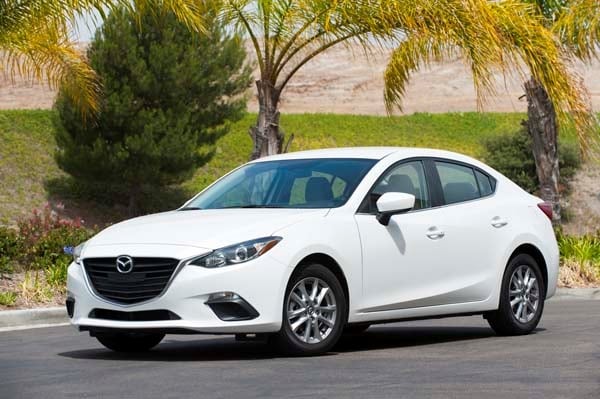 ~~~~~~~~~
Washington Dec. 16, 2015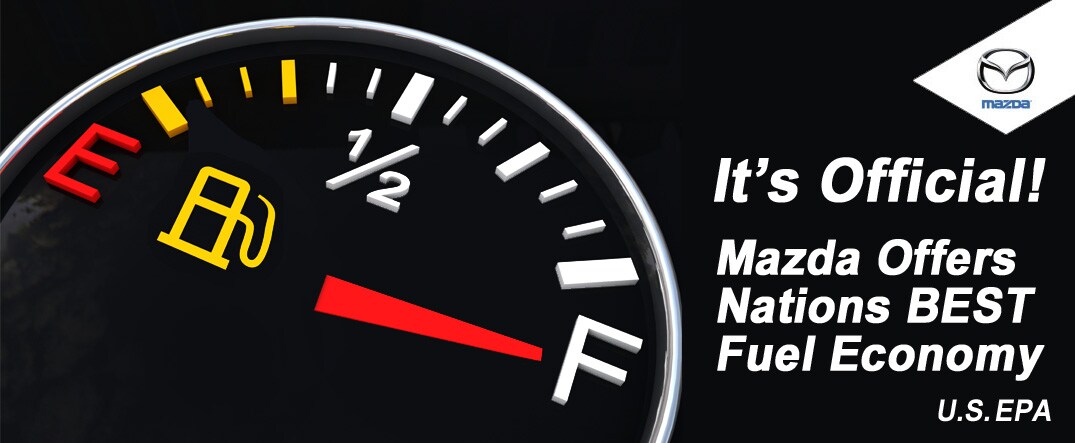 EPA Report Names Mazda the Most Fuel-Efficient Auto Manufacturer in the U.S.
- SKYACTIV Technology Delivers Top Fuel Efficiency Spot for Third Consecutive Year 
The U.S. Environmental Protection Agency (EPA) noted in its most recent Light Duty Fuel Economy Trends report that Mazda Motor Corporation is the most fuel-efficient auto manufacturer in the U.S.  With the highest fleet-wide adjusted fuel economy performance of 29.4 miles per gallon (MPG), and the lowest CO2 emissions of 328, Mazda led the chart for model year (MY) 2014.  
For the third consecutive year, Mazda has achieved the highest fuel efficiency of any other mainstream automotive manufacturer in the industry, without offering a hybrid or electric vehicle. Mazda's unique SKYACTIV Technology has made this level of efficiency possible.  SKYACTIV is a suite of component and engineering technologies intended to cut vehicle weight and improve engine efficiency for outstanding environmental and safety performance, without sacrificing the brand's renowned driving pleasure.
Click here for the full article Mazda Named Most Fuel Efficient

~~~~~~~~
November -2015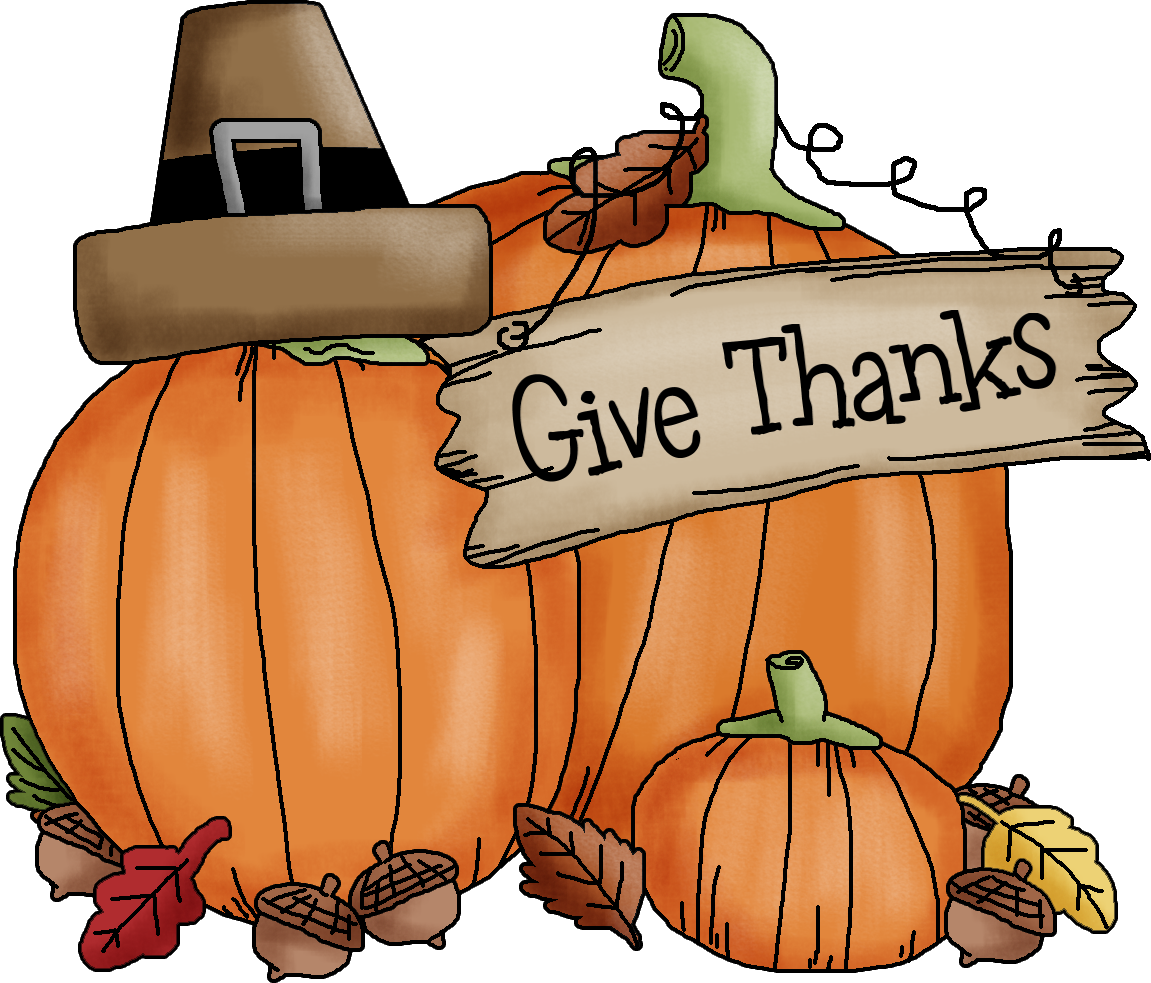 Please join us as we fill our trunks with food for Second Harvest.  
And, you'll be eligible to enter our contest for a 
Cruise for Two!! 
Click below for a message from John
John Patterson filling the trunks!

~~~~~~~~~~
October, 2015 John Patterson, Live from the OC Auto Show! 
~~~~~~~~
U.S.News & World Report
Best Cars
2016 Mazda CX-3
October, 2015
The 2016 Mazda CX-3 ranks 1 out of 9 Affordable Subcompact SUVs.  This ranking is based on our analysis of published reviews and test drives of the Mazda CX-3, as well as reliability and safety data.
The all-new 2016 Mazda CX-3 offers a fun driving experience, great fuel economy and ample standard features.
With its four-cylinder engine, reviewers say the 2016 Mazda CX-3 has good acceleration from a stop and for city driving. However, they note that the engine can struggle during highway passing maneuvers, though they note that most subcompact rivals aren't much quicker. They report that its six-speed automatic transmission is responsive, and they appreciate that when in manual-shift Sport mode, it holds onto gears longer. With 29/35 mpg city/highway, the CX-3 has some of the best fuel economy estimates in the class. Test drivers praise the 2016 Mazda CX-3 for its incredibly athletic handling, noting that it's one of the sportiest performers in the class. They are also impressed with its accurate steering, and say even over rough patches of road, its ride is cushioned.
Full article found here: //usnews.rankingsandreviews.com/cars-trucks/Mazda_CX-3/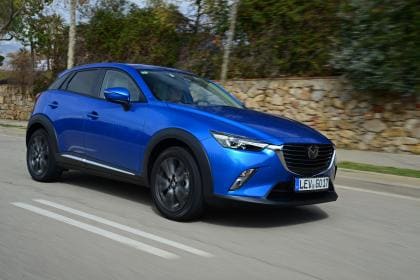 ~~~~~~~
The 2016 Mazda CX-3 is H-E-R-E!!!
Test Drive it TODAY!!!!
August 2015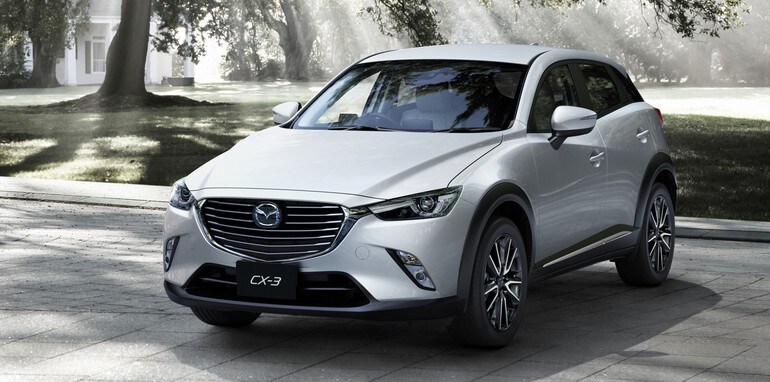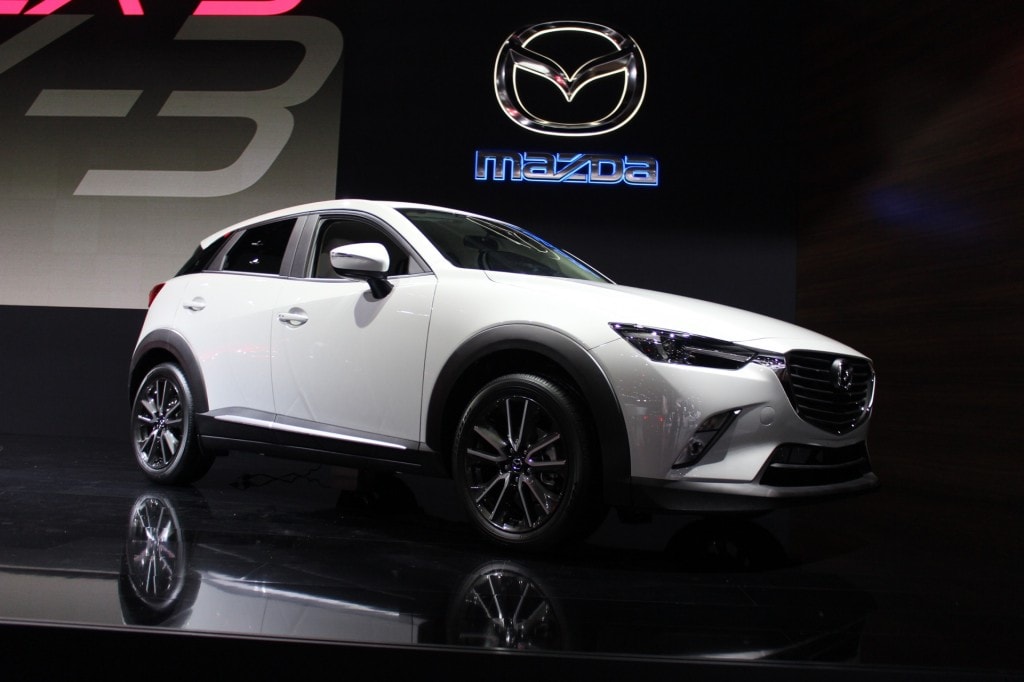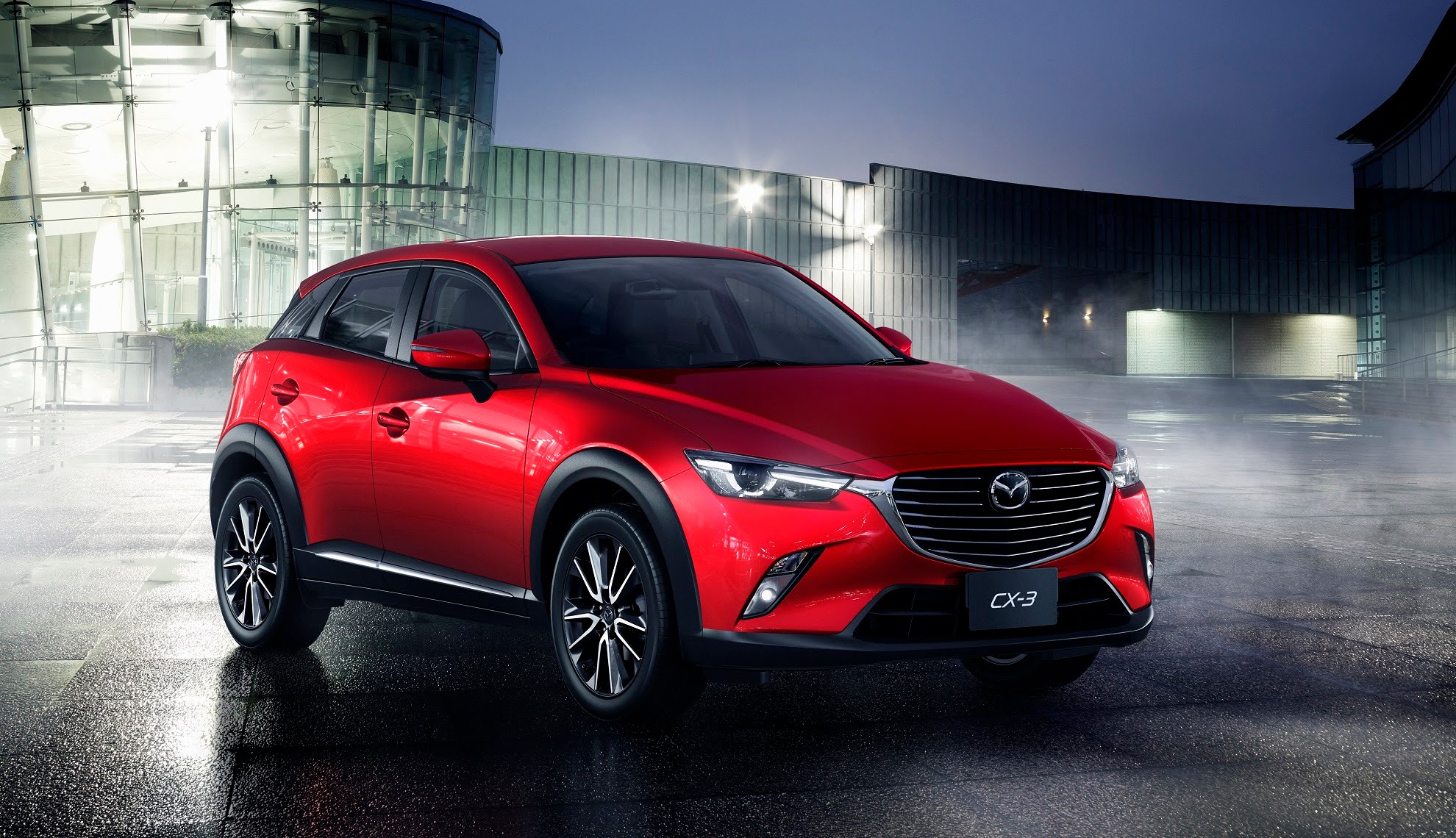 We just have a few on display, but we are taking orders for this impressive little spit-fire!
From Car and Driver:
The CX-3 is a fun and feisty runabout with a can-do attitude, offering taut handling paired with edgy styling. A 146-hp 2.0-liter four-cylinder and a six-speed automatic with front-wheel drive provide the zoom-zoom; all-wheel drive is optional. The CX-3 relies on its sport-tuned suspension and creative weight-saving measures to maintain Mazda's unique brand of driving pleasure. The cabin is equally well designed, featuring high-quality materials and modern driving aids.  
From Car Connection:
The 2016 Mazda CX-3 looks racy, handles well, and offers a compelling alternative to the Chevrolet Trax, Honda HR-V, and Jeep Renegade that have surged onto the market over the last year. U.S. car buyers have never before bought as many SUVs and crossover utility vehicles as they're taking home today. Now a growing segment of even smaller entries is offering new options, including the CX-3. It's the smallest crossover sold by the sporty Japanese brand, slotting neatly below the CX-5 compact SUV. 


~~~~~~~
Mazda unveils a smaller, lighter Miata that still delivers thrills
By Charles Fleming, Los Angles Times
August 1, 2015
Mazda's fourth-generation Miata, the first new MX-5 since 2006, delivers better fuel economy than its predecessor. Priced at about $24,000 for the entry-level Sport edition and just over $30,000 for a loaded GT model.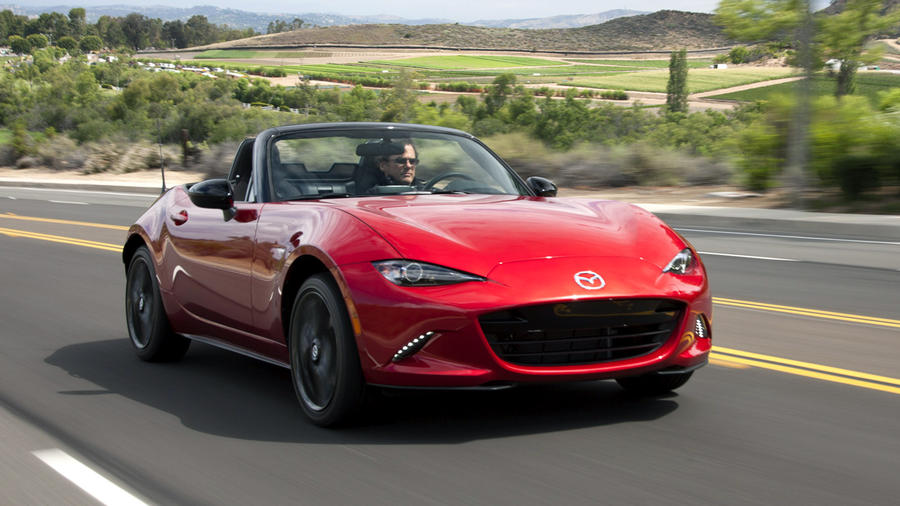 The bestselling two-seater in history is back.  
Mazda, betting that the economy has recovered and Americans are ready to buy cars just for the fun of it, has unveiled its new Miata. The popular drop top joins a growing list of small sports cars, signaling a post-crash resurgence of interest in vehicles that are more than people-movers. 
Mazda's fourth-generation Miata, the first new MX-5 since 2006, is smaller and lighter than its predecessor, and delivers better fuel economy.  "This is a halo car for Mazda," said Dan Edmunds, director of vehicle testing for the online auto shopping site Edmunds. "It defines who they are, and how they look at automobiles."
~~~~~~~~
News Flash!!!  July 1, 2015
You are cordially invited to our first annual Christmas In July Celebration!  
Christmas in July at OC Mazda means we will be providing support to the 
OC Rescue Mission and HomeAid OC.  
Both wonderful charities supporting families in need. 
These charities provide;
 housing, services, food, training and 
health care for families currently lacking these essential items. 
The support we will be providing this month will be 
in the form of both financing and supplies.
Our organization will be donating over $20,000 
to these charities during Christmas In July.
We will also be the home of collection stations for non -perishable items including:  canned food (vegetables & meats) rice, beans, cereal a snacks.  Baby wipes, diapers, cleaning supplies and hygiene items).
In addition, we will be giving out gifts to our customers during our Christmas in July Celebration!
Every week we will be giving a 5 Day, 4 Night Carnival Cruise!  To qualify you can either provide some of the above mentioned supplies or come in for a test drive.  
1 Trip per week throughout the month of July!
In the spirit of giving and to say thank you to our community, all of us at 
OC Mazda wish you a
Very Merry Christmas in July!

~~~~~~~~
IRVINE, Calif. (June 3, 2015) - 
The 2015 Mazda3 has been named one of the '10 Best Family Cars of 2015' by Parents magazine and Edmunds.com. This marks the 16th accolade awarded to the Mazda3 this year.
Safety and reliability are top priorities when evaluating vehicles for the top 10 list, so it is no surprise that Mazda3 is named one of the best family cars of 2015. Mazda3 sets the bar for standards of safety, having been awarded as a 2015 Top Safety Pick by the Insurance Institute for Highway Safety and earning the highest five-star overall safety rating from the National Highway Traffic Safety Administration. In November 2014, the 2015 Mazda3 received a Residual Value Award for the Compact Segment by ALG, a true testament of the quality, dependability, reliability and value of the vehicle.
"There is something special about making a car that gives the person behind the wheel peace of mind and confidence while transporting their loved ones," said Jim O'Sullivan president and CEO, Mazda North American Operations (MNAO). "Our advanced technology features such as the Smart City Braking and the Lane Departure Warning System are the perfect safety companions to the fun-to-drive Mazda3."
Starting at $16,945 MSRP, Mazda3 features SKYACTIV® TECHNOLOGY, "KODO-Soul of Motion" design and features such as i-ELOOP (which enhances fuel economy), MAZDA CONNECT (infotainment) and i-ACTIVSENSE (safety). This award-winning vehicle is one of the most fuel-efficient vehicles in its class, available in four- and five-door configurations and offered with either a SKYACTIV-G 2.0-liter or 2.5-liter engine. Both six-speed manual and automatic transmissions also are available.
Additional information about the award can be found at //www.parents.com/parenting/money/car-buying/best-family-cars/.
~~~~~~~~
Mazda CX-5 Global Production Reaches One Million Units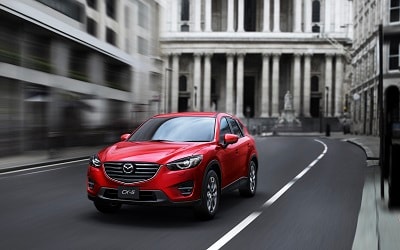 HIROSHIMA, Japan-Mazda Motor Corporation announced today that cumulative production of the Mazda CX-5 surpassed one million units at the end of April 2015. Taking only three years and five months since production commenced in November 2011, the CX-5 is the second fastest Mazda model to reach the milestone one-million-unit mark, following the Mazda3 (known as Mazda Axela in Japan).
Production of the CX-5, which was the first of Mazda's new-generation models that feature SKYACTIV TECHNOLOGY and KODO-Soul of Motion, began at Ujina Plant in Hiroshima, but has since been expanded to include manufacture at Changan Mazda Automobile Co., Ltd., in China and locally assembly at Mazda Sollers Manufacturing Rus in Russia, Mazda Malaysia Sdn., Bhd., in Malaysia and Vina Mazda Automobile Manufacturing Co., Ltd., in Vietnam.
Mazda CX-5 was launched into the growing global crossover SUV market in February 2012 as a new core model for the Mazda brand. It has since won more than 60 different awards around the world, including the prestigious Car of the Year Japan in 2012-2013. The CX-5 has grown into a key model in Mazda's global car lineup and was the top-selling SUV in Japan in 2012 and 2013.
"I am delighted to see the CX-5 reach the one-million-unit mark in only three years and five months," said Masashi Otsuka, Program Manager of the CX-5. "I would like to express my gratitude to the people all over the world who have appreciated and supported the CX-5. We are committed to continue enhancing this model into the future to ensure that it remains a popular choice among people with active lifestyles, and will appeal to even more customers in the future."
Moving forward, Mazda will continue to develop products which offer all customers driving pleasure and outstanding environmental and safety performance, with an aim of enriching people's lives and becoming a brand that builds a special bond with its customers.
 ~~~~~~
The 2016 Mazda6 and the Mazda CX5 Receive Family Car Honors!
Irvine, CA
May 8, 2015
Two Mazda vehicles have received awards from the Greater Atlanta Automotive Media Association (GAAMA); 2016 Mazda6 took home the award for "Best Tech Family Car" while 2016 Mazda CX-5 earned the "Best Value Family Car." Both vehicles have been refreshed for the 2016 model year.
GAAMA awards the Best Tech Family Car to a car that brings "rich technology features like entertainment and connectivity for passengers and advanced driver assistance and parking assistance and parking assistance systems to ease life behind the wheel." The Best Value Family Car is awarded to the vehicle "priced under $32,086 (including destination) and delivers outstanding performance in a range of categories for less than the average new-car price."
Refreshed for the 2016 model year, Mazda6 and Mazda CX-5 have been upgraded with a standard electronic parking brake and a redesigned dashboard and gauges for a heightened upscale atmosphere. Both vehicles are equipped with SKYACTIV®[1] TECHNOLOGY, which allows them to achieve among the highest fuel economy in their respective classes and exhilarating driving dynamics.
Also offered in Mazda6 and Mazda CX-5 is the MAZDA CONNECTTM suite of infotainment technologies that are displayed through a seven-inch color touchscreen display. MAZDA CONNECTTM also has a commander control knob for users who prefer using a scroll wheel for Mazda6's connectivity functions. Features include Bluetooth® phone pairing and audio streaming, Pandora®/AhaTM/StitcherTM radio and available navigation, SiriusXM® radio and a Bose® audio system.  If that weren't enough, Mazda6 Grand Touring has an available head-up display when optioned with the Technology Package.
Mazda North American Operations is headquartered in Irvine, Calif., and oversees the sales, marketing, parts and customer service support of Mazda vehicles in the United States and Mexico through nearly 700 dealers. Operations in Mexico are managed by Mazda Motor de Mexico in Mexico City.  For more information on Mazda vehicles, including photography and B-roll, please visit the online Mazda media center at www.mazdausamedia.com.
2016 Mazda CX5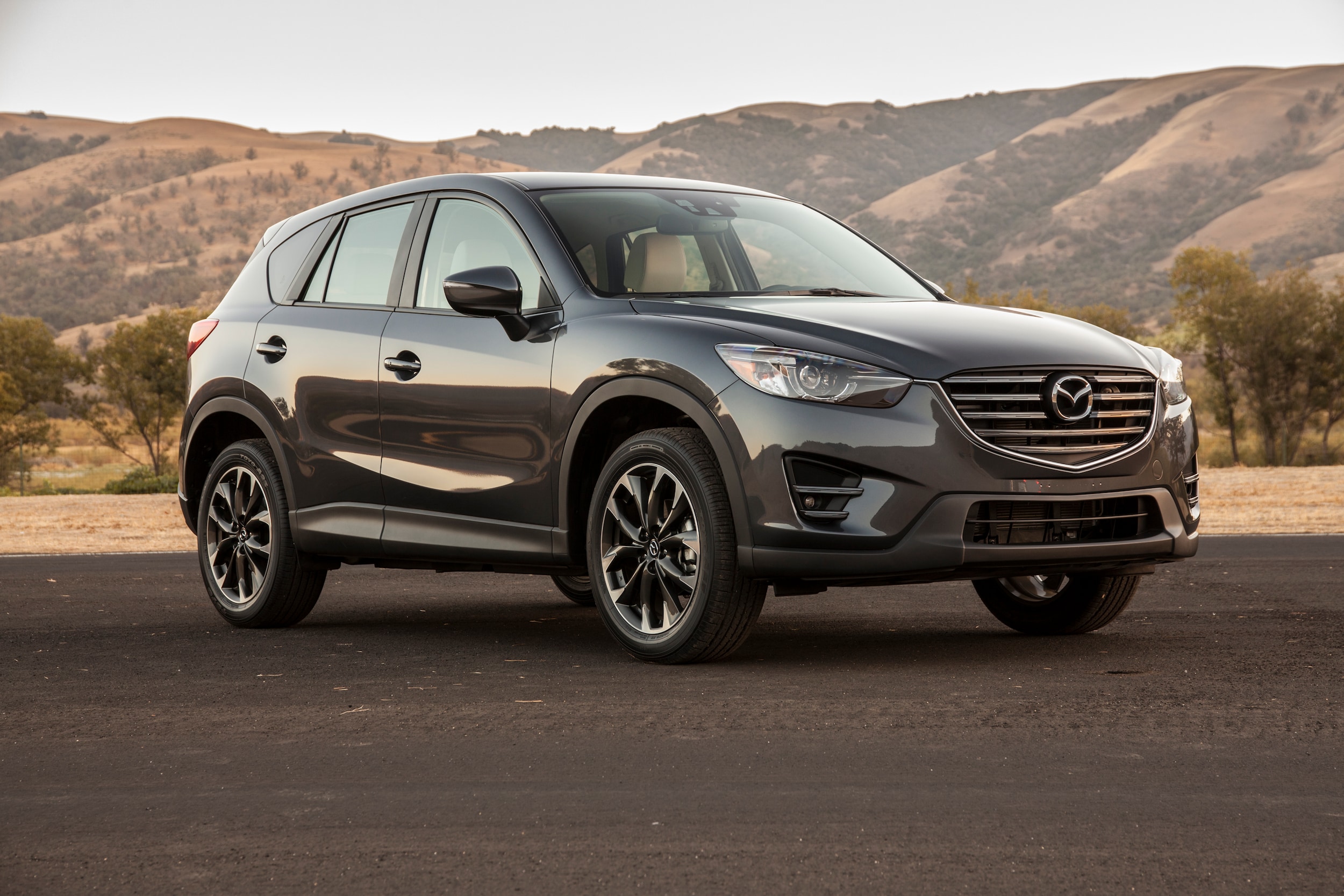 2016 Mazda6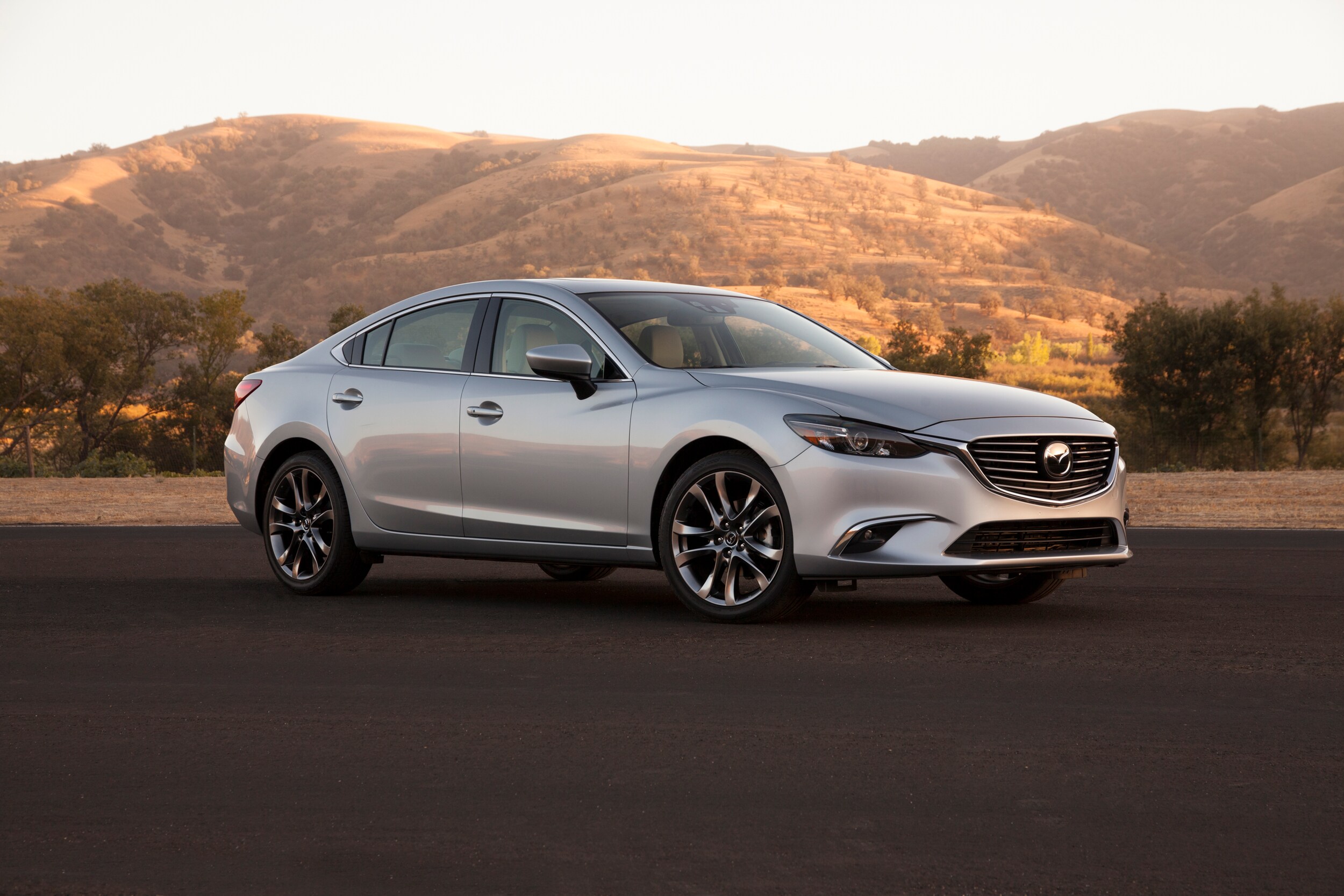 ~~~~~
Full 2016 Mazda MX-5 Miata pricing released!
April 20, 4:56PM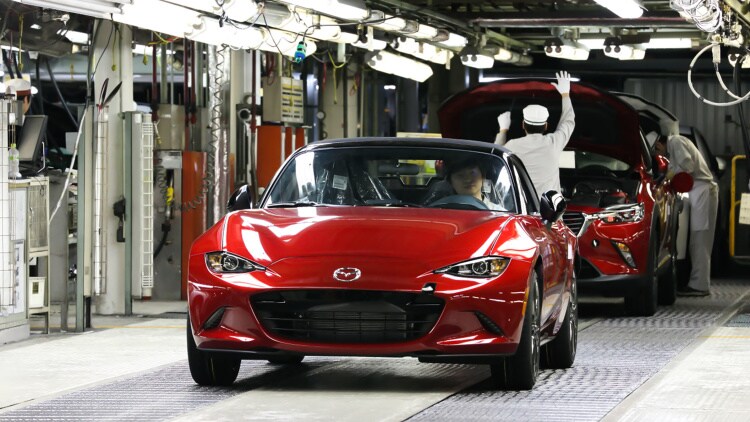 Take heart, roadster fans. The first 2016 Mazda MX-5 Miatas due for the US are now in production. To go along with that milestone, the Japanese automaker has finally released full pricing for the fourth-generation Miata.
As previously revealed, the 2016 Miata in the base Sport trim starts at $24,915 (plus $820 destination), and for that outlay buyers get a 2.0-liter four-cylinder making 155 horsepower and 148 pound-feet of torque that's matched to a six-speed manual. The convertible comes standard with features like LED lighting and a Bluetooth-equipped audio system. For $1,075 more on all models, customers can spec a six-speed automatic gearbox, and keyless entry is another $130 but standard with the auto 'box.
One rung up is the Club trim for $28,600, and it improves things with 17-inch wheels, a more aggressive body kit and a seven-inch touchscreen infotainment system. Order the manual trans, and the roadster gets a limited-slip differential, Bilstein dampers and a shock-tower brace. There's also a $3,400 package to make this version of the convertible even sportier with 17-inch BBS wheels, Brembo front brakes, side sill extensions and a rear bumper skirt.
Among the regular trims, the top rung is the Grand Touring for $30,065 that adds luxuries like heated, leather seats, automatic climate control, rain-sensing wipers, and adaptive headlights. Mazda's i-Activesense is also standard and includes blind spot monitoring, rear cross-traffic alert and lane-departure warning.
Finally, there's the Launch Edition, which is limited to 1,000 units, and it sells for $30,495 (or $31,570 for an automatic). All of them come in an exclusive combo of Soul Red with Sport Tan leather, and buyers get all of the Grand Touring's kit, plus standard keyless entry. The order site for these special roadsters opens on May 5, but hopefuls can pre-register now for a reminder.
The first 2016 Miatas should hit dealers in late summer. That should provide some time for top down driving fun before it gets too cold.
~~~~~
2015 Mazda CX-5 And MX-5 Rack Up KBB.Com Awards
IRVINE, Calif. (March 23, 2015) - Kelley Blue Book's KBB.com recently named the 2015 Mazda CX-5 a "10 Best All-Wheel-Drive Vehicles Under $25,000" and "10 Most Fun SUVs." KBB.com has also named the 2015 Mazda MX-5 as one of its "10 Coolest Cars Under $25,000."
The 2015 Mazda CX-5 is equipped with SKYACTIV®[1] TECHNOLOGY, which allows it to achieve among the highest fuel economy in its class and exhilarating driving dynamics. KBB.com editors said, "the Mazda CX-5 compact SUV is among the most fun-to-drive, most stylish vehicles in its class. Optional all-wheel drive only adds to its abilities." Additionally, components of i-ACTIVSENSE help to assist drivers in detecting potential collision situations and aids in the avoidance of these dangers.
The 2015 Mazda MX-5, which starts at $23,970, continues to bring more than a quarter century of pure driving fun to the masses. Available with either a soft top or power retractable hardtop (PRHT), the MX-5 offers a blend of performance, driving dynamics, value and a wind-in-the-hair experience that has led to more than 940,000 being sold around the world.
                                                                  ~~~~~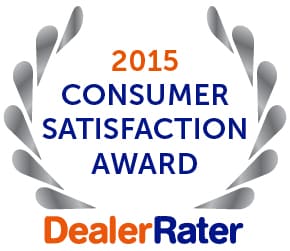 TOP 10% IN THE NATION!
TUSTIN MAZDA AND HUNTINGTON BEACH MAZDA AWARDED BY DEALERRATER 
WALTHAM, Mass. - Feb. 17, 2015 - DealerRater - the leading car dealer review site for consumers - today announced its first annual Consumer Satisfaction Awards, an extension of its Dealer of the Year Award program, to recognize top-performing car dealerships who have received stellar customer reviews on DealerRater.com and DealerRater.ca.
"The competition for our annual Dealer of the Year Awards Program is fierce with winning dealers attaining consistently high reviews and ratings on DealerRater," said DealerRater CEO Gary Tucker. "The Consumer Satisfaction Awards allow us to broaden our recognition programs to showcase a larger group of dealers for the great customer service they provide throughout the year."
To qualify for a Consumer Satisfaction Award, dealers must meet the same requirements as the Dealer of the Year program, including at least 25 reviews in the previous calendar year, an average consumer rating of 4.0 out of 5.0 calculated quarterly, and a minimum of one review per quarter in the previous calendar year.
The Consumer Satisfaction Awards will be given annually to the top 10 percent of U.S. new-car dealers based on their PowerScore, as well as all U.S. used-car dealers and Canadian (new and used) car dealers that meet the Dealer of the Year criteria. A dealership's PowerScore is calculated using an algorithm that considers the dealership's average DealerRater star-rating as well as the total number of reviews written about the dealership during the calendar year.
Dealers recognized as Consumer Satisfaction Award winners receive recognition on their DealerRater Dealer Review page allowing the 12 million online visitors to the site to instantly identify the dealer as a provider of high-quality customer service.
For full details on the DealerRater Consumer Satisfaction Award, visit the DealerRater website at  www.dealerrater.com/company/consumer-satisfaction.aspx.